LBW T-shirts for Isle of Man
T-Shirt design for the Isle of Man
This is the T-shirt design by Julian R. after many late nights using Linux GIMP. We are using a long established T-shirt supplier in Douglas, Isle of Man, due convenient for this event. We confirm the colour will be Red matching the Isle of Man flag.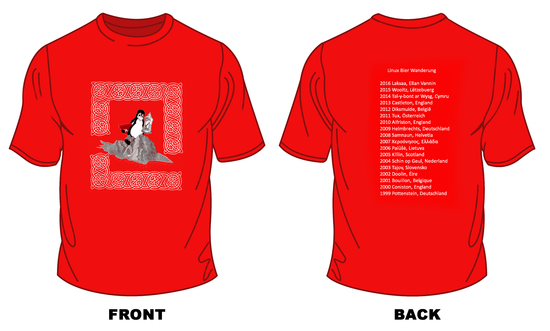 Estimated cost £14.00
.
Adults Gildan GD005, 185gsm Cotton.
Sizes: Small 34/36 inch, Medium 38/40 inch, Large 42/44 inch, X-Large 46/48 inch, 2X-Large 50/52 inch, 3X-Large 54/56 inch, 4X-Large 58/60 inch, 5X-Large 62/64 inch.
Ladies, Gildan GD006, fitted silhouette, 185gsm Cotton,
Sizes: Small 6/8, Medium 10/12, Large 14/16, X-Large 18/20, 2X-Large 22/24.
Adults, AWD JC001, Cool T, 140gsm Polyester.
Sizes: XS 35 inch, Small 38 inch, Medium 40 inch, Large 43 inch, XL 45 inch, 2XL 48 inch, 3XL 50 inch.
Ladies, Craft CT21F, Womens Active run tee, 130gsm Polyester.
Sizes: XS 8, Small 10, Medium 12, Large 14, XL 16.
Ordering your T-Shirts
Please send your orders by Email to lbwiom@crye.me.uk
Example Email subject: T-Shirt Order
Example Email text: Adult Gildan GD005, Large. Adults AWD JC001, XL. Ladies Gildan GD006, Small. Ladies Craft CT21F, Medium.