Evening meal, Very Manx, Salmon Centre
The Corn Mill and Salmon Centre is located inland West about 200 metres from the Institute and has view of the Lady Isabella water pumping wheel.
There has been another management change to Maria Danby in August 2015.
So we have an updated shorter menu.
Please Email the codes on the left only to lbwiom@crye.me.uk
example: Email subject – Salmon Centre on Tuesday 2nd August,
Email text – menu, C, S3, M2, D1.
Menu for the Very Manx meal.
A. Starter and Main, 2 course dinner £16.95 per person
B. Main and Dessert, 2 course dinner £16.95 per person
C. Starter and Main and Dessert, 3 course dinner with tea and coffee £21.00 per person
Starters
S1 Traditional Manx Broth, local breads.
S2 Manx ham and cheddar croquettes, aioli.
S3 Greeba mushrooms, garlic, cream, toasted brioche.
Main Courses
M1 Manx steak and Hooded Ram ale pie, roasted potatoes, seasonal vegatables
M2 Lemon and thyme roasted chicken, roasted potatoes, seasonal vegatables
M3 Greeba mushroom stroganoff, wild rice
Desserts
D1 Vanilla and autumn berry cheescake
D2 Warm sticky toffee pudding, Manx Ice cream
D3 Chocolate brownie, fresh berries
Corn Mill is joined to the Salmon Centre
Corn Mill is at the front as a Tea and Lunch shop.
It has a small water wheel and a Pelton wheel water-electric generator underneath,
Salmon Centre is around the side towards the Great Laxey wheel,
both on Wheel Hill, Laxey, Isle of Man, IM4 7NL.
They have outside benches in front of the Corn Mill wheel room, other rooms taking around 22, 28 or 80 people.
The 80 people room is near the back where the Salmon Lake can be seen.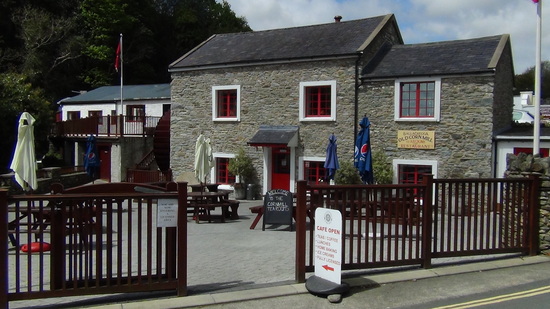 The Salmon Centre also has a working model of the Laxey Mines in the entrance to the 80 people room.
Around the back is their Salmon Lake