Evening meal, Pie In The Sky restaraunt, on top of Snaefell mountain
Walk or catch the Manx Electric Railway up to the summit of Snaefell Mountain.
Pie In The Sky
Then have a meal and a great view at the top.
To book
Bus and Rail enquiries
Example (from information leaflet, Wednesday 5th August 2015)
Sunset Dinners Menu 1, £30 per person for 2 courses and return tram travel.
Starters

Homemade fresh tomato soup
Manx kipper pate
Greeba flat cap mushroom with feta cheese (V)
Homemade bruschetta (V)

Main Course

Supreme of chicken
Homemade fish pie
Braised manx beef
Vegetable chilli (V)

Desserts

Availalble to buy separately
Outside poster seen May 2015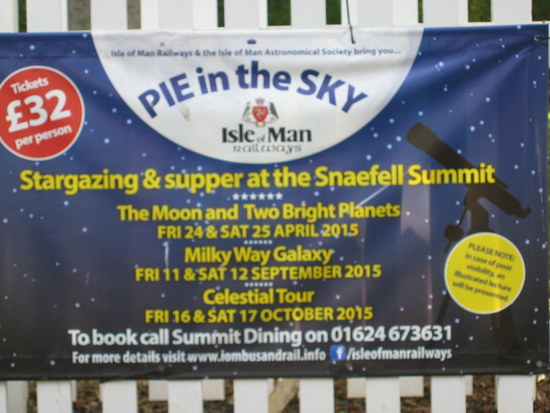 Seven Kingdoms Sunday lunch
Book in advance if you want Sunday lunch there.