Laxey other facilities
Fuel stations
EVF Laxey Service Station, on A2 "New Road" opposite the Co-Op
Fairy Cottage, South West entry on A2 road into Laxey
Food
Co-operative food store

Some bottled beer
Fresh food supplies for cooking
Cash machine
Co-operative food store

Will likely issue Isle Of Man pound notes!
Post Office
Stamps etc.
Barclays customers only bank counter services
Bank
None, It closed down before May 2014
Main banks in Douglas or Ramsey
Shop
Laxey Woollen Mills shop, St. George's Mill, Glen Road, Laxey, IM4 7AR

Open Mon-Sat 9am-5pm
Tel: 01624 861395
Cafes
Craigmooar Tea Rooms

part of bed and breakfast accomodation
Ticket Office of Manx Electric Railway
Brown's Cafe

Vinny on Mobile: 07624 234 497 (April 2016 survey)
Email (April 2016 survey)
Laxey's Diner, on walk up to Isabella water pump wheel

Could open in evenings by arrangement. Take our own beer!
Tel: 01624 862072 (Winter hours 10.30am-3pm)
Photograph taken back in May 2014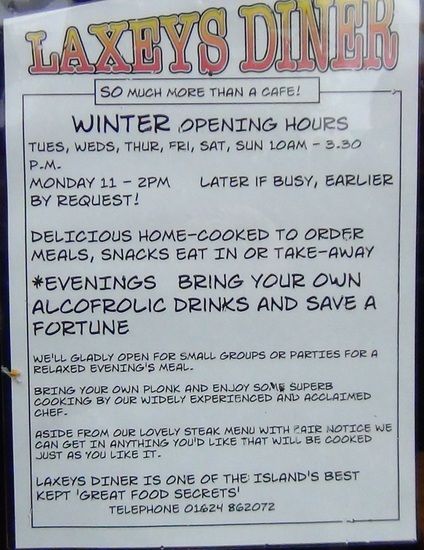 Craft Tea Weaver, St. George's Mill, Glen Road, Laxey, IM4 7AR

Part of Laxey Wollen Mills. 23 seats. Up the stairs. Entrance in car park.
Open Mon-Sat 10am-4pm
Tel: 01624 863373
Laxey Beach Cafe, at sea front.

Open "10am until it gets quiet" the sign board said in May 2014.
Noitre, the "Old Butchers Shop", next to Co-Op and across from EVF petrol station (recorded 15 May 2015)

French Style
Open Tuesday-Sat 9am-4pm, Sun 10am-3pm
"We use best, freshest, Manx produce adding a bit of French flair. Menu includes dishes like Eggs Benedict, French toast with Bacon, French Rarebit, Duck a l'Orange, Cheese souffle or come and enjoy Manx roasted coffee and homemade cakes."
Others
Gift shop, On road to Lady Isabella, beyond Laxey Diner.
The Tram Junction, Unit 3, Tramway Close, Laxey, IM4 7BA (behind Co-op and Noitre)

Transport Memorabilia, Collectables, Books & Souvenir shop
Tel: 01624 861898
Tel: 01624 627614
Chinese takeaway
Phoenix Takeaway, New Road, Laxey. About 50 metres walk past the Co-Op and Noitre cafe
Full range!
Open Sunday-Monday 5pm-10.30pm, Tuesday Closed, Wednesday-Thursday 5pm-10:30pm, Friday-Saturday 5pm-midnight
Tel: 01624 862822
Taken from Menu leaflet in May 2014. No website!
Soup
1. Hot & Sour Soup (Hot)
2. Chicken & sweetcorn Soup
3. Chicken, Mushrooms & Noodle soup
Appetisers
4. Aromatic Crispy Duck Quarter
Aromatic Crispy Duck half, served with pancakes
Aromatic crispy Duck Whole
5. Lamb skewers
6. Spare ribs with Barbecue Sauce
7. Spare Ribs cooked with Salt & Chilli pepper (Hot)
8. Spare Ribs with Plum sauce
9. Chicken Skewers with Satay sauce
10. Sesame Prawn toast
11. Deep fried crispy Wan Ton
12. Deep fried crispy Spring Rolls (4)
13. Chinese Cheese rolls (4)
14. Chicken Samosas (4)
Seafood Dishes
15. King Prawn with Satay sauce
16. King Prawn with Mixed vegatables
17. King Prawn with Spring Onion & Ginger
18. King Prawn with Chilli Bean sauce (Hot)
19. King Prawn with Green Pepper & Black Bean sauce
20. King Prawn with English Mushrooms
21. Sweet & Sour King Prawn
22. Deep Fried King Prawn with Salt& Chili Pepper (Hot)
23. Kung Po King Prawn (Hot)
24. New Zealand Green Shell Mussells with Sping Onion & Ginger
25. New Zealand Green Shell Mussells with Green Pepper & Black Bean sauce
26. New Zealand Green Shell Mussells with Cheese & Garlic sauce
Beef Dishes
27. Deep Fried Crispy Shredded Beef in Hot Chilli Sauce (Hot)
28. Deep Fried Crispy Shredded Beef in Plum sauce
29. Beef with Mixed Vegetables
30. Beef with Green Pepper & Black Bean sauce
31. Beef with English Mushrooms
32. Beef with Satay sauce
33. Beef with Peking sauce
34. Beef with Pineapple & Ginger
35. Beef with Spring Onion & Ginger
36. Beef with Chilli Bean sauce (Hot)
37. Beef with Barbecue Sauce
38. Beef with Black Pepper sauce
Pork Dishes
39. Roast Pork with Chilli Bean sauce (Hot)
40. Roast Pork with Hong Kong Style
41. Roast Pork with Green Pepper & Black Bean sauce
42. Roast Pork with English Mushrooms
43. Roast Pork with Barbecue Sauce
44. Sweet & Sour Pork
Chicken Dishes
45. Chicken Balls with Sweet & Sour sauce
46. Chicken with Chilli Bean sauce (Hot)
47. Chicken with Mixed Vegetables
48. Chicken with Barbecue Sauce
49. Chicken with Satay sauce
50. Chicken with English Mushrooms
51. Chicken with Green Pepper in Black Bean sauce
52. Lemon Chicken
53. Sweet & sour Chicken Cantonese Style
54. Chicken with Spring Onion & Ginger
55. Kun Po Chicken (Hot)
56. Deep Fried Crispy Chicken
57. Salt & Chilli Pepper Chicken (Hot)
58. Chicken with Cashew Nuts
Roast Duck Dishes
59. Roast Duck with
60. Roast Duck with
61. Roast Duck with
62. Roast Duck with
63. Roast Duck with
64. Roast Duck with
65. Roast Duck with
66. Roast Duck with
67. Roast Duck with
68. Aromatic Crispy Duck with Sweet Plum sauce
Chow Mein Dishes (Noodles)
69. Singapore style Noodles (Hot)
70. Special Chow Mein
71. King Prawn Chow Mein
72. Beef Chow Mein
73. Chicken Chow Mein
Omelette Dishes
74. King Prawn Omelette
75. Chicken Omelette
76. Roast Pork Omelette
77. Mushroom Omelette
Curry dishes
78. Mandarin Special Curry
79. King Prawn Curry
80. Beef Curry
81. Chicken Curry
Rice Dishes
82. Singapore Fried Rice (Hot)
83. Duck with Pineapple Fried Rice
84. Special Yeung Chow Fried Rice
85. King Prawn Fried Rice
86. Beef Fried Rice
87. Chicken Fried Rice
88. Egg Fried Rice
89. Boiled Rice
Vegetarian Main Dishes
90. Vegetarian Singapore Style Noodles (Hot)
91. Vegetarian with Cashew Nuts
92. Vegetarian with Chilli Bean sauce (Hot)
93. Vegetarian with Satay sauce
94. Vegetarian with Sweet & Sour sauce
95. Vegetarian with Curry sauce
96. Vegetarian Spring Rolls (4)
Side Portions
97. Noodles with Beansprouts
98. Beansprouts
99. Mushrooms
100. Gravy sauce
101. Curry sauce
102. Sweet & Sour source
103. Chilli Bean sauce
104. Satay sauce
105. Chips
106. Prawn Crackers
107. Chips & Choice of sauce
108. Egg Fried Rice & Choice of sauce
109. Chips & Egg Fried Rice & Choice of sauce
110. Double Sausage & Chips
111. Chips with Salt & Chilli Pepper (Hot)
112. Banana Fitter / Onion Rings
113. Double Burger with Chips & Peas & Gravy
114. Chicken with Chips & peas & Gravy
115. Chips with Cheese & Gravy
And finally the Chef's Special Banquets
£12.00 per head, for two or more
Quarter Aromatic crispy duck with Pancakes
Deep Fried Crispy Spring Rolls
Special Curry
Chicken in sweet & sour Sauce
Fried Rice
Prawn Crackers